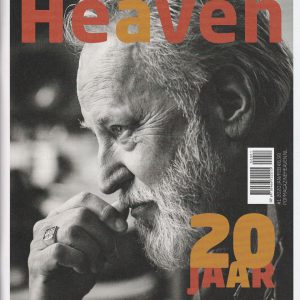 Pinguin Radio en Popmagazine Heaven delen twee belangrijke eigenschappen: een passie voor goede muziek en een volstrekt onafhankelijke opstelling. Dat moest natuurlijk tot een samenwerking leiden
Heaven verzorgt iedere dinsdagavond van 22:00 tot 23:00 een uur lang de muziek op Pinguin Radio. Net als Pinguin heeft Heaven oor voor – bijna – alle popmuziek. In het uurtje radio hoor je muziek uit verschillende genres: (classic)rock, roots, folk, soul, world, jazz en blues.
En weer een nieuwe Heaven!
ROOTS/FOLK
Interviews met Jack Poels – Bonnie "Prince" Billy – Wouter Planteijdt – The Lasses
Recensies van Simon JOyner – Andrew Combs – Bob Dylan – Joe Henry – Jan Henk de Groot – Lankum = Chris Knight – e.a.
POP/ROCK
Interviews met I Am Oak – Arno – Barry Hay & JB Meijers – Patrick Watson – Peter Koelewijn
It was 20 years ago today: TEva Cassidy Songbird
Recensies van Nick Cave and the Bad Sees – Big Thief – Richard Dawson – Perry Blake – FKA twigs – De Dijk – Fink – e.a.
BLUES/JAZZ/SOUL
Interviews met The Teskey Brothers – Beth Hart
Recensies van Michael Kiwanuka –  24 Pessos – Joe Bonamassa – Chris Barber – Van Morrison – Charles Lloyd Quartet – e.a 
WERELD/REGGAE/KLASSIEK
Interviews met Maite Hontelé – Daymé Arocena – Ketil Bjørnstad
Recensies van Aziza Brahim – Bantou Mentale – Miguel Zenón – The Good Ones – Gaby Moreno & Van Dyke Parks – e.a.
PRIJSVRAAG
Win albums van Arno – Barry Hay & JB Meijers – Bonnie "Prince" Billy en het boek Luisteren &cetera van Mourits en Steinz
Dit nummer niet missen? Neem een abonnement en profiteer van de aanbieding: 1 jaar Heaven van € 34,99,- voor slechts € 22,50,-! Een abonnement neem je hier: www.popmagazineheaven.nl/actie-abonnement
Liefhebbers van Heaven Radio luisteren natuurlijk ook naar ons zachtere zusje Pinguin Pluche.
Playlist uitzending #200
Playlist 21 januari 2020
Jason Isbell And The 400 Unit – Seven-Mile Island (cd: Jason Isbell And The 400 Unit)

Annie Gallup – The Roads Were Deserted (cd: Bookish)

The Mavericks – Are You Sure Hank Done It This Way (cd: Play The Hits)

West My Friend – Soft Water (cd: In Constellation)

Kelsey Waldon – White Noise, White Lines (cd: White Noise/White Lines)

Belle And Sebastian – Did The Day Go Just Like You Wanted (cd: Days Of The Bagnold Summer)

Leif Vollebekk – Old Tears (cd: New Ways)

Wooden Soldiers – Potion (cd: Wooden Soldiers)

Jimmie Roadgers – Somewhere Down Below The Dixon Line (cd: The Rough Guide To The Roots Of Country Music)

Efterklang – Uden Ansigt (cd: Altid Sammen)

Caroline Herring – You Are No Longer A Stranger (cd: Verses)

Robbie Robertson – Hardwired (cd: Sinematic)

Kacy & Clayton – Intervention (cd: Carrying On)

Minimal Compact – Not Knowing [2019 Version] (cd: Creation Is Perfect)

Knight Area – Omaha Beach (cd: D-Day)

Omni – Skeleton Key (cd: Networker)